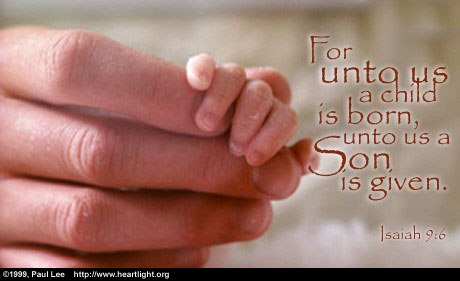 Noo, this baby boy has not decided that he's ready to make his grand entrance just yet.... but wouldn't that have been a quite fitting verse if he came yesterday on the day we celebrate the birth of our Savior?!
Yesterday was a quiet and pleasant day... though truth be told, I was convinced I was in early labor from about midnight to 5 AM Christmas morning. But the contractions never really progressed in intensity or duration, and then they stopped altogether...
Since we've been together, Jon and I have been merging our Christmas traditions. Now that we will have a child to celebrate with, however, I want to make a list of all the possible traditions we will want to continue and which ones to add :-)
Some traditions are fun and some are just because "that's the way it has always been"... but I want to make sure that we also have traditions that are very meaningful and that, as the image says below, reveal who JESUS is and why we celebrate His birth.
"Just for Fun" Traditions
Opening new pajamas on Christmas Eve... (I'm not sure about Jon's family, but I think we always got new jammies for Christmas, though I think we opened them on Christmas day.)
One of the gifts can be a new outfit that they can wear to church that day... or if we decide that we want to only go to church on Christmas Eve then they can open it that day... We'll have to talk about that one...
To eat or not to eat before opening presents?? I say EAT because that's what my family always did, but Jon's family always opened presents first! I'm thinking that kids these days need to learn a little bit of delayed gratification, so make 'em wait a little bit before they get showered in goodies haha
Jon and his siblings were infamous for guessing what was "inside the box", so Jon's mom developed different codes for labeling the gifts that she would switch up every year and that way the kids didn't know which gift belonged to whom. For example, one year she did zip codes of different places they've lived and another year she did colors, etc. If our kids will be anything like Jon, I am all for this idea.
Watching all the classic Christmas movies (and new classics) in the days leading up to Christmas (starting the day after Thanksgiving?!):
Miracle on 34th St, It's a Wonderful Life, A Christmas Story (when they get much older), A Charlie Brown Christmas, Elf, Home Alone (when they get older), The Polar Express, The Santa Clause, A Christmas Carol (not sure which version?), The Nativity Story (2006 film), How the Grinch Stole Christmas (not the Jim Carrey version, but the original!), the classic animations like Rudolph the Red-Nosed Reindeer, Santa Claus is Coming to Town, Frosty the Snowman, The Little Drummer Boy, The Year Without a Santa Claus, etc. and Disney classics like Mickey's Christmas Carol, Toy Tinkers, and all the short animations I used to watch when I was young. (I would also list National Lampoon's Christmas Vacation since that's on MY must-watch list, but after watching it yesterday I must say that is not a movie for children haha)
When to put up the tree?? The day after Thanksgiving? December 1st? My family was always a bit late putting it up, but I love having it up as long as possible! Some say that in putting your tree up too early that you are not really taking part in the Advent preparations of anticipating the coming of Christmas, but instead you're celebrating all month long. I think a good compromise is to put the tree up after Thanksgiving and then to come home after church on each Sunday before Christmas and to decorate the tree little by little. Maybe the week before Christmas we put the lights on and then on Christmas Eve we put the angel on top?
When to take it down?? I'm thinking maybe New Year's Day? Or maybe since Jacob's birthday will be soon after Christmas we can take it down the day before or the day of his birthday? Kind of like a "OK now it's time to celebrate your birthday" type of thing?? We'll see...
There are lots more that I can think of, but I'll stop here :-)
Traditions with a Deeper Meaning
Celebrating
Saint Nicholas Day
?? I guess this is really big up in Milwaukee, Wisconsin (among other U.S. cities where they have a lot of people with a Dutch or Germanic background). My co-worker (from Milwaukee) was telling me that on the morning of Saint Nicholas Day (December 6th), their stockings or shoes are filled with candy, chocolates, fruits, and a book. I think that is so cool and I definitely want to start doing that :-) We would learn about how Saint Nicholas relieved suffering and helped the poor and then maybe we could go out and do some type of serving in the community.
Going to either candlelight service on Christmas Eve, service on Christmas morning, or both...
Making (or buying) Christmas cards and making some cookies or candies for neighbors on our street (even though we probably won't now many of them!). Go out early in the morning on Christmas Eve or a few days before Christmas and sneak them in their mailboxes. (Oh and leave one in our own mailbox for the mailman!)
Serving others.... Community kitchens, nursing homes, etc. When? Maybe on the Sundays leading up to Christmas and then Christmas Eve...?
Christmas Caroling. Some friends did it this year in a neighborhood in Nashua where there are lots of new Americans and they also went to a homeless shelter, etc. and the recipients of the caroling really loved it! (It was the day after my due date, otherwise I would have been there!) They said that God totally showed up in a big way and that they will for sure be doing it every year now. Can't wait!
Celebrating Advent in various ways and learning all about the
tradition of Advent
, which means "coming" or "arrival" and when celebrated it is the preparation of celebrating Jesus's First Coming (in the past as a baby) and the anticipation of His Second Coming (in the future as Judge). Ways to participate in Advent include: reading of scripture, adding the figurines to the Nativity set, lighting of candles, singing songs like "O Come, O Come Emmanuel" etc., Advent calendar, learning the symbolism of the colors and the tradition of the evergreens and wreath.
Only giving three gifts to each child...? (Not including the stocking or the jammies the night before.) This one would be a bit difficult I think because it's very enjoyable to give gifts to those you love. However, I heard about others doing this because the King of Kings was presented with three gifts when He was born (frankincense, myrrh, and gold) and so why shouldn't that be good enough for us? Besides, it's not like they won't be receiving gifts from their grandparents and aunts and uncles! I want the gifts to be special and for them to truly appreciate them. So, if they know they are only getting three, then there isn't that "What's next?" factor... I just get upset seeing children tearing through Christmas or birthday gifts and then at the end they say, "Is that it?"... Oooh that drives me bananas, but it also makes me really sad to see....
* * * * *
Well... we have the rest of the year to think about how we will want to celebrate, but I hope our children will remember the traditions and pass some along to their children as well :-)
What are some traditions (just for fun or full of meaning) that your family celebrates?
God bless you! Hope your Christmas was wonderful!
xoxo
♥ †
Jenn